November 28th, 2020 - 7:00 PM. Destin, FL.
Magicians Noah & Heather in Destin, FL. November 28th, 2020 at HarborWalk Theater.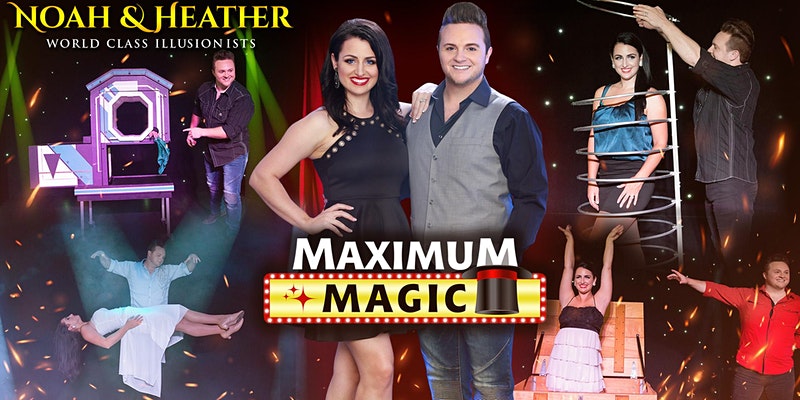 Magicians Noah & Heather - Destin, FL.
Stars of The MAXIMUM MAGIC Show
World Class Illusionists
This incredible experience is a first for Northwest Florida. Witness 90 minutes of world class illusions, hilarious comedy, audience participation, unbelievable mind-reading, and special effects, all wrapped up in an action-packed show the whole family will love! Everyone raves, It was the highlight of our vacation!.

Event Hosted by: HarborWalk Theater.
Performer(s): Noah & Heather.
Type of Event: Magic & Illusions Show.
Audience: Family magic shows!.
Event Fee: $27.99.
Event Date: November 28th, 2020.
Event Time: 7:00 PM.
Location: HarborWalk Theater 10 Harbor Blvd Unit 234, Destin, FL 32541.
Tickets & Information: 850-273-7888. -
https://reservations.waverez.com/hwtheatre




Read More Magic Posts
Rabbits for magic shows...
But before you ask for such a trick, there are some things to keep in mind. Behind the stage the rabbits suffer.
Read more...
---
Get Insured!
Why Performers, Magicians & Entertainers need to have Liability Insurance?
And how to get it?
Read more...
---
Magic Shops Online vs Local Magic Shops.
Not only local magic shops are losing. But the truth is that local magic shops offer.
Read more...
---
---
Learn Basic Card Magic Tricks
Learn Basic Magic Tricks with Cards here for Free! Card Magic Tricks This is a manual based on my book, Basic Magic with Cards
Read more...
---
Magic Organizations in the U.S.
Whether you are a novice magician or a well-practiced professional, magic organizations and clubs are a great ...
Read more...
---
November 2020, Destin Shows, Destin Events, Destin FL
Events & Shows. Magicians Noah & Heather. Stars of The MAXIMUM MAGIC Show. World Class Illusionists. HarborWalk Theater 10 Harbor Blvd Unit 234, Destin, FL 32541. Magic & Illusions Show
Events & Shows in Destin, FL. Family magic shows! - Magicians Noah & Heather in Destin, FL. November 28th, 2020