December 13th, 2020 - 4:00 PM. ONLINE, AK.
Illusionist Coby ONLINE-VIRTUAL MAGIC SHOW. December 13th, 2020.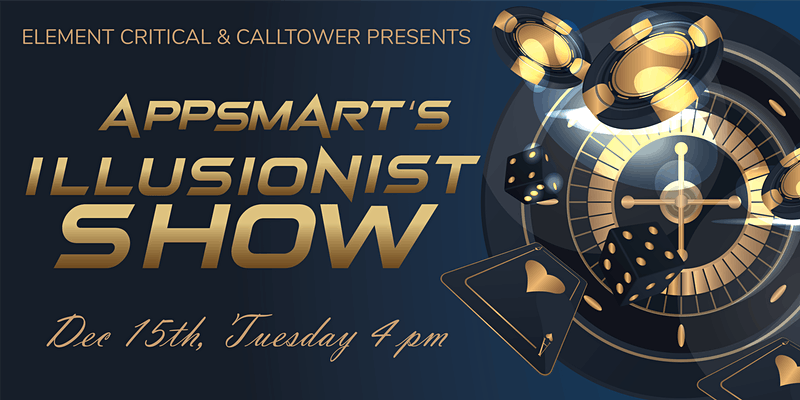 Illusionist Coby - ONLINE-VIRTUAL MAGIC SHOW.
Appsmart is bringing the entertainment right to your screen!
Professional magician and mentalist Coby. A free online event.
Join Us!

On December 15th at 4 pm, we are hosting an interactive virtual party experience, sponsored by Element Critical and CallTower. Be shocked and amazed by our guest illusionist, "The Magic of Coby" and his mind-blowing performance.

Virtual Magic Event

This show will be held virtually, using the Zoom platform to ensure you can attend safely and from the comfort of your home or office..

Event Hosted by: Element Critical and CallTower.
Performer(s): Coby.
Type of Event: Illusions Show.
Audience: Family magic show!.
Event Fee: FREE.
Event Date: December 13th, 2020.
Event Time: 4:00 PM.
Location: ONLINE
Tickets & Information: . -
eventbrite.com/e/appsmart-illusionist-magic-show-tickets-130302082035




Read More Magic Posts
Rabbits for magic shows...
But before you ask for such a trick, there are some things to keep in mind. Behind the stage the rabbits suffer.
Read more...
---
Get Insured!
Why Performers, Magicians & Entertainers need to have Liability Insurance?
And how to get it?
Read more...
---
Magic Shops Online vs Local Magic Shops.
Not only local magic shops are losing. But the truth is that local magic shops offer.
Read more...
---
---
Learn Basic Card Magic Tricks
Learn Basic Magic Tricks with Cards here for Free! Card Magic Tricks This is a manual based on my book, Basic Magic with Cards
Read more...
---
Magic Organizations in the U.S.
Whether you are a novice magician or a well-practiced professional, magic organizations and clubs are a great ...
Read more...
---
December 2020, ONLINE Shows, ONLINE Events, ONLINE AK
Events & Shows. Illusionist Coby. Appsmart is bringing the entertainment right to your screen!. Professional magician and mentalist. ONLINE . Illusions Show
Events & Shows in ONLINE, AK. Family magic show! - Illusionist Coby in ONLINE, AK. December 13th, 2020